BSC/ASC Associazione Professionale Supervisione & Coaching ASC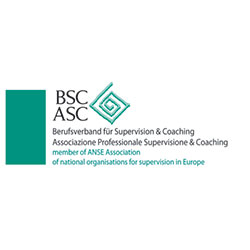 Italian Association for Supervision & Coaching
Office: Ilse Dr. Egger – Micki Gruber, Fermo posta – Piazza Parrocchia 13, 39100 Bolzano
Fon: +39
Email: [email protected]
Website: www.supervision-coaching.it
Foundation 1996
Number of members 41
Structure of the association
The BSC is founded as non-profit association and consists of the following bodies:
General assembly
Chairman
Board
Auditor
Concept of supervision
Supervision is regarded as a specific professional form of counselling that is focussing at the kind of work and the work tasks employees of organisations are doing. The guided reflection is directed to the various aspects:
the role of the individual employee;
the co-operation between the employees and the co-operation between them and the leadership;
the work which is done with the clientgroups;
the targets of the organisation.
Supervision is conceived as a supplementary measure for special and further professional training, not bound by a specific theoretical or methodological school and not restricted to a specific field of professional activities. Supervision aims at assuring and developing the professional and human quality of work. The theoretical background of this form of counselling is based on findings in organisation and communication sciences, sociology, adult education and psychology.
Forms of supervision as practised by the BSC members:
Individual supervision
Management consulting
Teamsupervision
Group supervision
Organisational supervision
Target groups of supervision
are professional workers in the following fields of work:
School and kindergarten
Education and pedagogical work
Social welfare and health
Spiritual welfare
Administration and services
Business
Training of supervisors
Members of the BSC finished supervisor training courses in various European countries, corresponding to standards of the respective national organisations.
Activities of the association
Ombuds office
Public relations regarding the development and promotion of the profession
Representation of professional interests in public
Publication of leaflets about the contribution of supervision in various fields of work
Service centre for members and clients
Member lists with field competencies
Continuous training, controlgroups and groups for intervision for members
Development of standards for the education of supervisors and the delivery of supervision
Newsletter for members